Guest Room Blocks
Hilton Milwaukee Downtown features recently renovated guestrooms in the historic section. Furnishings are traditional yet reflect the charm and elegance of an era gone by. A palette of baby blues, warm creams, and mocha browns adorn the spacious and brightly lit Hilton hotel rooms.

And, you can rest easy, because all Hilton Milwaukee wedding packages include a complimentary room for the happy couple on their wedding night.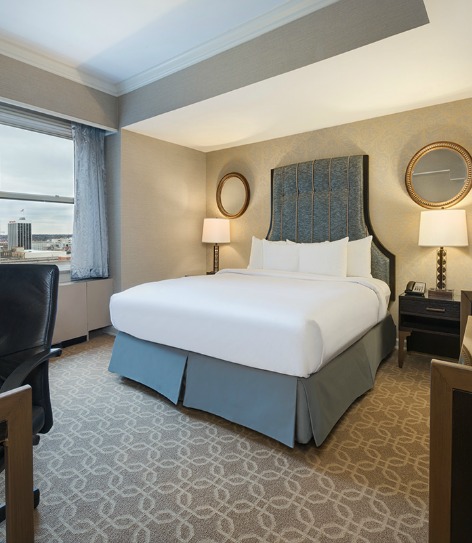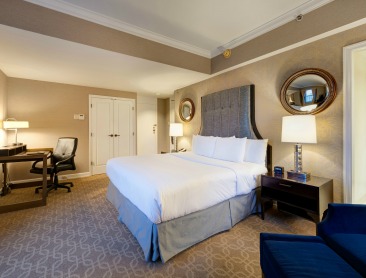 King Room
Our fully-furnished King Room offer functionality and elegance that encourages relaxation and enjoyment. Our welcoming color palette combined with luxurious design and modern amenities promises a relaxing and enjoyable stay for your guests.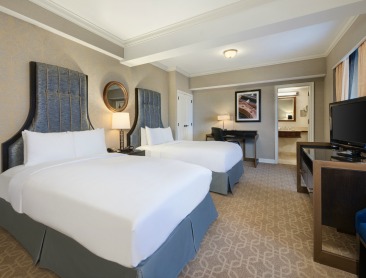 Double Room
Our Double Room offers a charming blend of spacious functionality and luxury in design and décor. With both modern amenities readily available and the classic, though calming, atmosphere, your guests are sure to remember their stay long after your wedding festivities.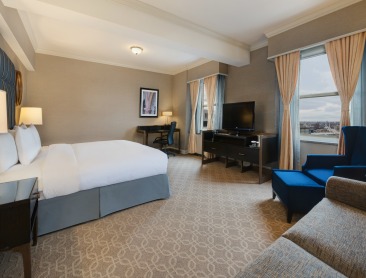 King Superior Room
Our newly renovated King Superior Room not only offers a spacious seating area and work space but includes a queen sofa sleeper for added sleeping space. Your guests are sure to enjoy and remember the relaxing and comforting atmosphere long after your big day.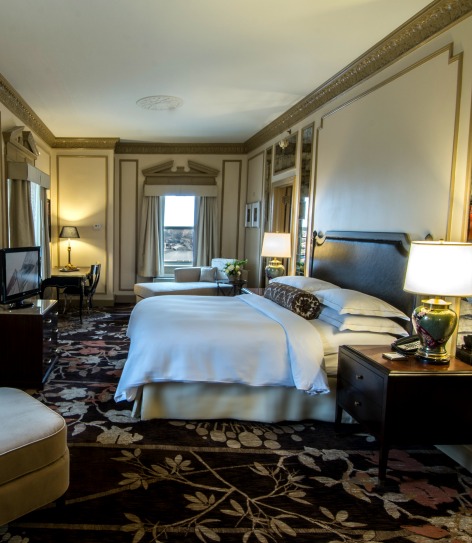 Specialty Suites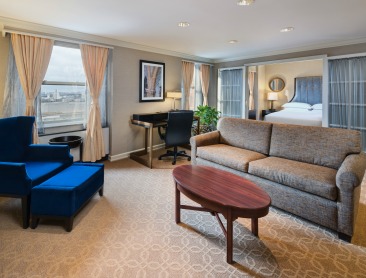 One King Bedroom Suite
Our 1 King Bedroom Suite offers exceptional relaxation. With classic décor and modern design elements and amenities, you are sure to love this space for all your wedding preparation and relaxation. A separate seating area and pull out sofa bed add to the spaciousness of the suite, and with all the room you might need for pre-wedding activities, you can be sure to have all you need at the Hilton.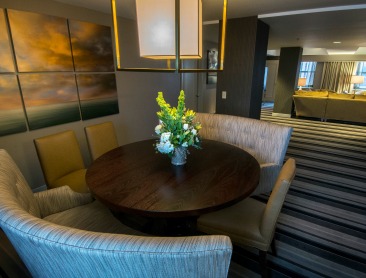 Plaza Suite
The Hilton's Plaza Suite offers a great pairing of modern design and décor with classic elegance. With a spacious seating area and parlor combined with a arge bedroom, this suite is sure to meet all your pre-wedding needs of added space, comfort, and luxury. With a pull out sofa and plenty of seating your wedding-day helpers will have plenty of space to help make your big day a dream come true.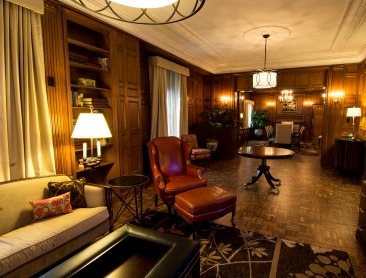 The Presidential Suite
Our most luxurious and spacious suite, the Presidential Suite offers the upmost in elegance and world-class charm. As the name indicates, this is a popular room for presidential visits, and it's easy to understand why. With a spacious multi-room layout, the luxurious charm of the suite is evident throughout. An expansive seating area and large bedrooms are to surpass your expectations, and offer comfort, relaxation and the elegance you deserve on your wedding day.

Rachael D
"WOW is the best descriptor I can give. Such a large and beautiful building full of character and in the heart of the city. Service was excellent and I was comforted knowing my guests not only got a room for the evening(s), but they also had the entertainment of the city within footsteps."